At the start of the long Easter weekend, the airport in Argentina's capital is eerily quiet before dawn, hours before it will fill with travelers. About 100 people who sleep inside the facility are getting ready to start their day.
One of them is Ángel Gómez, who has been living in the Jorge Newbery International Airport for two years and has seen how the number of people joining him has soared.
"After the pandemic, this became a total invasion," Gómez said early Thursday as he sat next to a sign that advertised the Perito Moreno glacier, an iconic tourist attraction in Argentine Patagonia.
UN AGREES TO HEAR CENTURY-OLD VENEZUELA-GUYANA BORDER DISPUTE CASE
The airport, known colloquially as Aeroparque, has practically become a homeless shelter at night. It's a stark reflection of the rising poverty in a country where some of the world's highest inflation rates are making it difficult for many to make ends meet.
"If I pay rent I don't eat, and if I pay for food I'm on the street," said Roxana Silva, who has been living at the airport with her husband, Gustavo Andrés Corrales, for two years.
Silva gets a government pension of around 45,000 pesos, which is equivalent to $213 at the official exchange rate and about half of that in the black market.
"I don't have enough to live on," Silva laments, explaining that she and her husband take turns sleeping so that someone is always watching their stuff.
More and more Argentines are finding themselves in Silva's situation, as the country's inflation clocked in at an annual rate of 102.5% in February. Although Argentina has been used to double-digit inflation for years, this marked the first time the annual rise in consumer prices reached triple digits since 1991.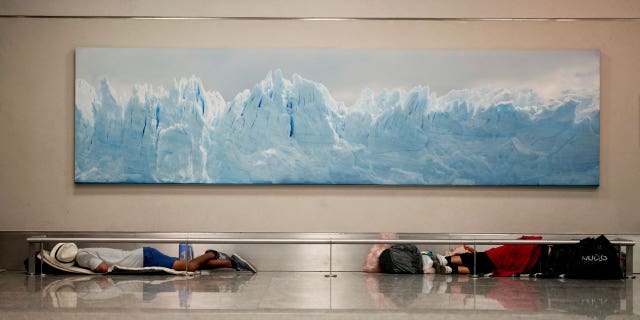 Buenos Aires' Jorge Newbery International Airport has become an unofficial homeless encampment as Argentina faces a significant economic crisis. (AP Photo/Natacha Pisarenko)
The high inflation, which has been especially pronounced in basic food items, has hit the poor the hardest and pushed the poverty rate to 39.2% of the population in the second half of 2022, an increase of three percentage points from the first six months of the year, according to Argentina's national statistics agency, INDEC. Among children under age 15, the poverty rate increased more than three percentage points to 54.2%.
Horacio Ávila, who runs an organization devoted to helping homeless people, estimates the number of people without a roof in Argentina's capital has soared 30 percent since 2019, when he and others carried out an unofficial count of 7,251 people in this city of around 3.1 million.
Amid the increased cost of living and diminishing purchasing power, more people started to look to the airport as a possible refuge.
Laura Cardoso has seen this increase firsthand in the year she has been living in the airport "sleeping sitting up" on her wheelchair.
"More people just came in," Cardoso said while accompanied by her two dogs that she says make it difficult for her to find a place to live because no one wants to rent to her. "It's packed with people."
EL SALVADOR'S GANG CRACKDOWN STRETCHES TO ONE-YEAR MARK WITH NO SIGN OF SLOWING
Mirta Lanuara is a new arrival, living in the airport only about a week. She chose the airport because it's clean.
Teresa Malbernat, 68, has been living in the airport for two months and says it's safer than being in one of the city's shelters, where she says she was robbed twice.
The Argentine company that operates the airport, AA2000, says it "lacks police power" and "the authority to evict these people" while also saying it has the obligation to ensure "non-discrimination in the use of airport facilities."
For Elizabet Barraza, 58, the sheer number of homeless people living in the airport illustrates why she's choosing to emigrate to France, where one of her daughters has been living for five years.
CLICK HERE TO GET THE FOX NEWS APP
"I'm going there because the situation here is difficult," Barraza said as she waited to board her flight. "My salary isn't enough to rent. Even if they increase the salaries, inflation is too high so it isn't enough sometimes to rent and survive."
"I don't want to come back," Barraza said.
Original Source: https://www.foxnews.com/world/buenos-aires-locals-bemoan-homeless-encampments-overrunning-major-airport