Original Source: https://www-m.cnn.com/2019/01/26/uk/venezuela-maduro-bank-of-england-gold-withdrawal-gbr-intl/index.html?r=https%3A%2F%2Fwww.cnn.com%2F
Bank of England blocks Maduro's $1.2B gold withdrawal – report
By Rob Picheta, CNN
Updated at 12:32 PM ET, Sat January 26, 2019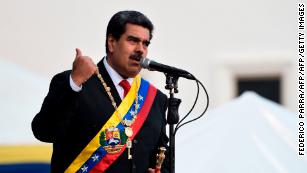 London (CNN) — The Bank of England has blocked Nicolas Maduro's officials from withdrawing $1.2 billion worth of gold, Bloomberg reported, dealing a further blow to the embattled Venezuelan President as he tries to salvage his authority.
According to the report, which cites unnamed people familiar with the matter, the gold is a significant part of the $8 billion in foreign reserves held by the Venezuelan central bank.
CNN has not been able to independently verify the report and is attempting to get a response from Maduro's officials.
The move by the Bank of England came after top U.S. officials urged the British government to help cut off Maduro's access to his country's assets, the report said, and instead steer them towards opposition leader Juan Guaido, 
who has claimed the presidency.
On Saturday, the UK joined the US and a host of other countries by saying it would recognize Guaidó as the country's interim President if new elections were not called within the next eight days.