Watch the video and visit our website for more details http://proven.flinnwestsolutions.com/.
James Pettit the President, CEO, and Director of Aben Resources sits down with Maurice Jackson of Proven and Probable to discuss the exciting final results of the 2018 drilling program on the Forrest Kerr Flagship Project located in the Golden Triangle of British Columbia. Mr. Pettit, provides a thorough analysis of this years drilling program. Equally important Mr. Pettit provides an update to current and prospective shareholders on the Justin Gold Project in the Yukon.

VIDEO
AUDIO
https://soundcloud.com/proven-and-probable/aben-resources-2
TRANSCRIPT
Original Source: https://www.streetwisereports.com/article/2018/12/22/exploration-company-diversifies-with-three-canadian-projects.html
Source: Maurice Jackson for Streetwise Reports  (12/22/18)

James Pettit, CEO of Aben Resources talks with Maurice Jackson of Proven and Probable about his company's summer drill program in the Golden Triangle, as well as projects in the Yukon and Saskatchewan.
Maurice Jackson:
 Welcome to Proven and Probable. I'm your host, Maurice Jackson. Joining us today is James Pettit, the president, CEO and director of 
Aben Resources Ltd. (ABN:TSX.V; ABNAF:OTCQB)
. Mr. Pettit, welcome to the show, sir.
James Pettit:
 Thank you very much. Glad to be here.
Maurice Jackson:
 Mr. Pettit, we're glad to have you back on the show. We have some exciting news coming out of your flagship project, the 
Forrest Kerr
, which is located in the Golden Triangle of British Columbia. But before we proceed, for someone who is new to the story, who is Aben Resources and what is the thesis you're attempting to prove?
James Pettit:
 Aben Resources is a gold exploration company. We basically have taken on some relatively new projects that at the same time are old. They just haven't been worked for a long time but they all have a lot of data. Our flagship is the Forrest Kerr. We have a project in the Yukon called the Justin project and we have a project in Saskatchewan called the Chico project. Our project portfolio is based in Western Canada, which is a very good mining jurisdiction known to be a very safe, politically stable jurisdiction to work. Canada has a remarkable mining history and there are a number of discoveries from the past, and we have an extensive resource database available to us on our projects and properties culminated with our proven management and technical expertise.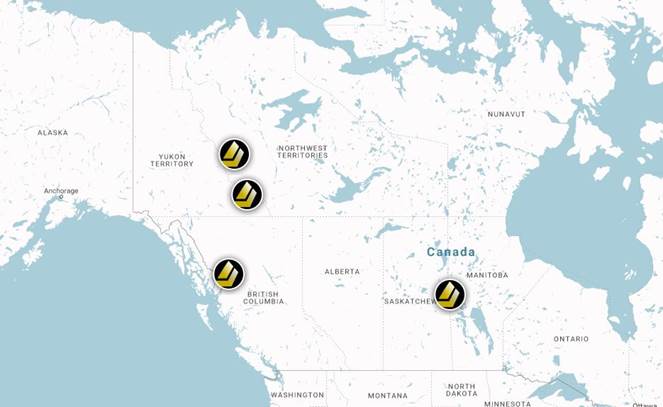 Maurice Jackson:
 In our last interview, we discussed the discovery of a new boundary zone at the Forrest Kerr. Today we will discuss Aben Resources' two most recent press releases regarding 
high-grade gold discoveries at the northern boundary
 of the Forrest Kerr and the 
final results of the 2018 program
. Mr. Pettit, what can you share with us?
James Pettit: 
In our last discussion, Aben had moved the rig a kilometer and a half south of the North Boundary Zone from our initial discovery, and we drilled three holes and we issued press release regarding the results. We were very encouraged because we hit some very good mineralization, in broad zones of lower grade, which excited us because we know that may have been one degree or two degrees off to the north, south, east or west and we could have hit potentially what we had already discovered at the North Boundary Zone! This, in essence, tells us that the whole Boundary Zone in general is alive. We have identified extensive mineralization. We are in an area that's two kilometers wide by about four kilometers long and everywhere we drill, we have been successful in hitting mineralization. The mineralization does varies from low grade to very high grade.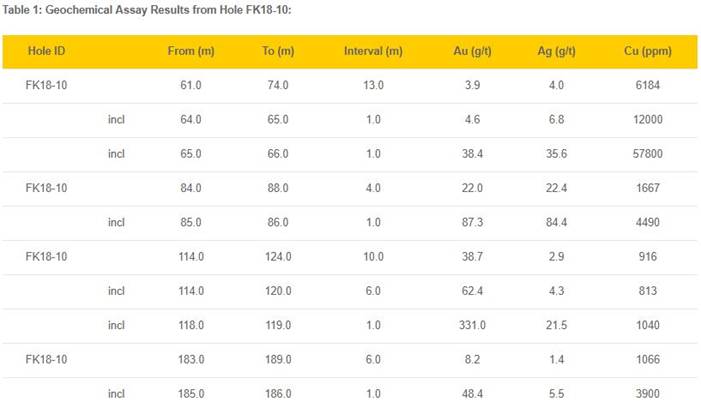 This year's drill program to date has been very encouraging, we were able to see sections that are very high grade and in the surrounding area, as it either carries on or diminishes. As a reminder, at the 
very beginning of our program this year
, we hit very high grade, 30 to 38 grams over 10 meters respectively. Thereafter, on our next 10 holes we drilled stepouts and we were continuing to hit some really good intersections consisting of a lot of lower grade interspersed within it. I'm talking 70 to 100 meters. As we get away, we're now into the last two news releases that we're going to talk about now and as we moved away from the high-grade North Boundary Zone, consisting of high-grade intercepts, they tend to diminish, instead of being 30 grams, there may be 5 to 14 grams and we also have intercepts that might be one to two meters wide and then they are surrounded by a lower grade that could be anywhere from 0.5 gram, 2, 3 grams.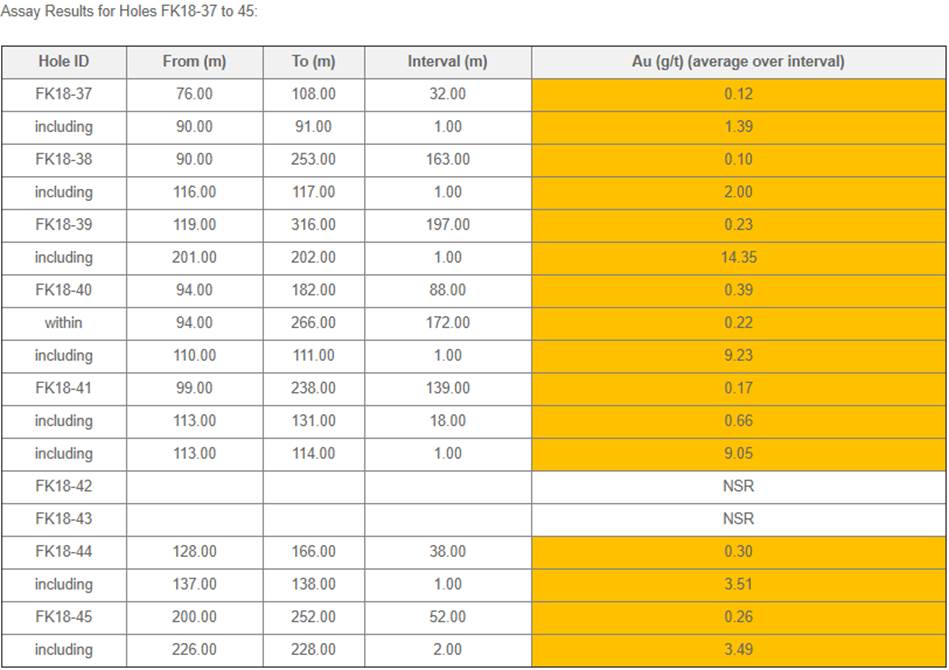 We have broad intersections in most of the holes. Some of the holes, we didn't hit anything. As I recall, two press release ago we published the results on holes 22 to 36. And now we have issued the results from holes 37 to 45 concluding this year's drill program. Most of those holes were exactly indicating what I was referencing, very broad intersections of low grade with the occasional high-grade spike. That definitely has our interest. Because it tells us we are in an environment that's extremely alive. We have the right rock package, in the right location, and we will continue with our efforts in 2019 to drill more.
A side note, all the drilling we've done since the initial discovery is oriented core drilling, which is a technique that allows us to understand the orientation, which is very important because it will indicate to us where to drill. Also, another side note, the reason we went to the South Boundary Zone for three holes is that we wanted to allow ourselves time to get some assays back to provide us information on the North Boundary Zone where the high-grade discovery was to give us an indication of where we should be drilling. So those three holes, although it was a side note, turned out to be extremely exciting for us because we know we can go down there and do a lot more drilling.
Current and prospective shareholders should note, on top of everything else, we have a lot more targets to work with in this total Boundary Zone that we haven't conducted. The future is looking very bright for Aben Resources. We believe once we get all the data compiled from this year's drill program, we're going to be a lot smarter. We are permitted. We were hoping to have the pad location permits earlier in the season, which would have allowed us to move the drill around on new pads so that we get better angles and orientation, but that wasn't the case. We got that permit after the season and it was delayed specifically because of the amount of fires we had in the area last year. The ministry stopped issuing permits, which was unfortunate, because that limited us to 10 pads. We now have 40 permits for 40 new pad locations, all pre-approved, and that will get us through the next few years.
Maurice Jackson:
 Mr. Pettit, how would you grade the 2018 season's work and the results on the Forrest Kerr?
James Pettit:
 I would say the work so far to date has been very exceptional. We did discover a zone right out of the shoot and it was our number 1 target out of about 15 for this whole area and we're still on it. That's a big deal, because we discovered this essentially through the data compilation and a little additional field work that we conducted in 2017. We did come up with some success right away and we're still there and it brought us to this very large zone, which was an old geochemical anomaly that was discovered back in the early 1980s and we've made it bigger. We have filled in some gaps. We are going to be doing a geophysical airborne survey with a drone early this coming season, that'll probably be in May that will overlay everything we're looking at. We've got several more targets to work with.
2018 really is the first season on concentrating on the boundary zone, and I would say with the data we've accumulated, it's extremely good. I believe we have a lot ahead of us.
Maurice Jackson:
 Moving on to the remaining project portfolio. Can you please provide us with some updates on each of them respectively?
James Pettit:
 At our 
Justin property
 in the Yukon, very quietly, we have done some trenching and more soil sampling work up there this year, which actually started last year. We ended up with some really good results from golden soil, an anomaly and so we did a golden grain count where you actually extract the gold grains from a 30 kilograms bulk sample, and it came back incredibly high, approximately 1,200 gold gains. They were jagged, meaning they're pristine, indicating they haven't traveled very far through glaciation. So we're sitting on what we feel is very close to or on top of the source.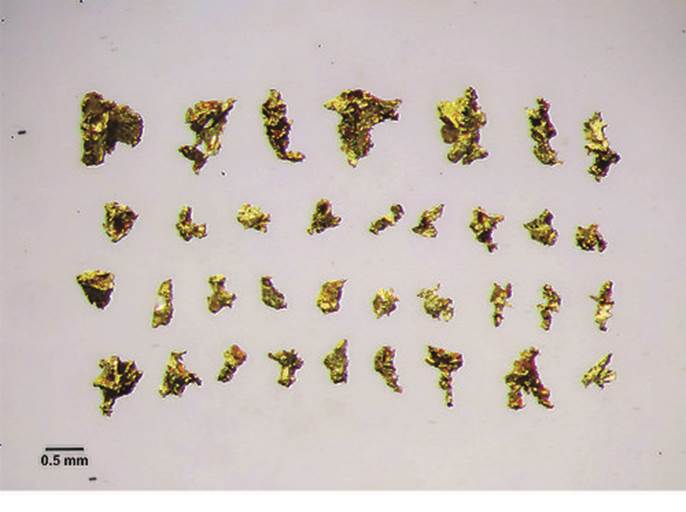 Select Coarse Gold Grains from Justin Project, Lost Ace Zone, Yukon
We went in this year with a small mechanical excavator that we took up by helicopter and we did some excavating and channel sampling throughout that whole area. Specifically, two targets were 125 meters apart. Both targets had a tremendous amount of coarse and visible gold in the soils and what you extract from the channel samples. So we sent in a lot of assays. Those results are expected very soon. They may in fact be in the hands of the geo right now. Aben will be coming out with some information on that in the near future. You can see some of the gold analysis on our website. We have visible gold on the website from the Justin project. It's pretty incredible. We may have an extension of Golden Predators' 3 Aces project, which is very high-grade gold, and that ties in nicely with what we drilled several years ago back in 2012 on that property. We may very well have an intrusion related gold system, which is generally lower grade, but large like Fort Knox or Virginia Gold.
These are very structurally controlled elements. They can prove to be very large, but we seem to have an overprinting of two different mineralizations happening because they're very close to each other. So this is exciting for us. We're going to spend more time and effort up there in the offseason for Forrest Kerr. We can probably get up there hopefully by March even though it's in the Yukon, the project is located inland and to the east. So it's away from the coast where you get some tremendous weather that is not conducive to doing any work.
In Saskatchewan, the 
Chico project
 is drill ready. We have some final negotiations that have been tied up. Everything's looking good with the local native group. We should be good to go late February, early March there.
We expect to have a good drill program, probably no more than 10 holes, but we know where to drill. That was all set up last year and it's following a model that SSR, which used to be Silver Standard, is doing on our northern boundaries. It has a very large program going on there because the company bought Claude Resources, which had the Seabee Mine and the Seabee and Santoy deposits in its property, right down to the Chico and it's doing 40,000 meters of drilling. Half of that is for exploration, to increase the resource so it can keep the mine open for an additional 10 years or whatever it's planning. But we're following its exploration model as well.
In fact, I think basically this year was good enough that we raised the money we need to probably do everything we want. We may do another smaller financing next year, but we're well positioned with cash. We've got $6 million in the till and that was raised at higher prices during the season this year, 30 cents and 45 cents (CAD).
Maurice Jackson:
 Well, that's very encouraging to hear. Switching gears, the value proposition for Aben Resources in our view has only improved as management continues to meet and/or exceed timelines and goals with very positive results. Yet the share price has responded counterintuitively. What would you like to tell current and prospective shareholders regarding the stock price?
James Pettit:
 The reason I want to advance the Justin and the Chico projects is to keep that cyclical event from happening because if you look at the chart, you can see it. Last summer, big spike in share price and by the end of October the season is up in the Golden Triangle. It's a very, very severe winter. It's high altitude and it's coastal mountains and you can get 30 to 40 feet of snow. So you're not doing anything up there and you got to get out and that also coincides, like it or not, with tax-loss selling. So if you only have the one project, then you're really going to subject yourself to this cyclical nature and the best time to buy the stock has always been November. Then you hold it and wait until you get going again, but what we're doing is adding in these other two projects, which are going to add some life and I think you're seeing it right now.
The stock did not come all the way down the way it did last year. As a matter of fact, I think I'm starting to see it bounce a little bit because tax-loss selling is pretty much over and I wouldn't be surprised at all if you see this stock back up in where it should be, in the twenties.
Maurice Jackson:
 Mr. Pettit, can you please share the last time you purchased shares and at what price?
James Pettit:
 The last time would have been a financing, last year, 18 months ago. I just took down the warrants on that one. I didn't sell anything. As a matter of fact, I've never sold anything. It was probably at 12 cents.
Maurice Jackson:
 For the record, we're looking to continue to add to our position in Aben Resources in the near future as we like the proposition before us at the current share price. Before we close, Mr. Pettit, multilayered question, what is the next unanswered question for Aben Resources and when should we expect results and what determines success?
James Pettit:
 Well, the next unanswered question is when can we get back in there to do more work and that's going to be next June, if not sooner. I think going forward in the immediate future, what's on the horizon and that's going to be the Justin project.
Maurice Jackson:
 Mr. Pettit, we've covered the good. What keeps you up at night that we don't know about?
James Pettit: 
Well, right now, I'm starting to like gold. The gold price kept me awake for a while. This was what was going on for gold and I think we're seeing a bit of relief and that's a consequence of other external factors, macro, and I think we're going to be looking at probably a good year for gold. But that has traditionally been what what's kept me awake is the fear of gold dropping more and it's actually held beautifully, I think.
Maurice Jackson:
 I would agree with that sentiment, sir. Finally, what did I forget to ask?
James Pettit: 
I think you got it. To be honest with you, I think you've got everything.
Maurice Jackson:
 Well, Mr. Pettit, for someone listening that wants to get more information on Aben Resources, please share the website address.
James Pettit:
www.abenresources.com
.
Maurice Jackson:
 As a reminder, Aben Resources trades on the TSX.V, symbol ABN, and on the OTCQB, symbol ABNAF. For direct inquiries, please contact Don Meyers at 604-639.3851. He may also be reached at 
info@abenresources.com
.
As a reminder, Aben Resources is a sponsor of Proven and Probable. We are proud shareholders for the virtues conveyed in today's message. Last but not least, please visit our website 
www.provenandprobable.com
 where we interview the most respected names in the natural resource space. You may reach us at 
contact@provenandprobable.com
.
James Pettit of Aben Resources, thank you for joining us today on Proven and Probable. Thank you for joining us today on Proven and Probable.
Maurice Jackson is the founder of Proven and Probable, a site that aims to enrich its subscribers through education in precious metals and junior mining companies that will enrich the world.
Read what other experts are saying about:
Disclosure: 
1) James Pettit: I, or members of my immediate household or family, own shares of the following companies mentioned in this article: Aben Resources. I personally am, or members of my immediate household or family are, paid by the following companies mentioned in this article: Aben Resources.
2) Maurice Jackson: I, or members of my immediate household or family, own shares of the following companies mentioned in this article: Aben Resources. I personally am, or members of my immediate household or family are, paid by the following companies mentioned in this article: None. My company has a financial relationship with the following companies mentioned in this article: Aben Resources is a sponsor of Proven and Probable. Proven and Probable disclosures are listed below.
3) The following companies mentioned in this article are billboard sponsors of Streetwise Reports: Aben Resources. Click here for important disclosures about sponsor fees. As of the date of this article, an affiliate of Streetwise Reports has a consulting relationship with Aben Resources. Please click here for more information.
4) Statements and opinions expressed are the opinions of the author and not of Streetwise Reports or its officers. The author is wholly responsible for the validity of the statements. The author was not paid by Streetwise Reports for this article. Streetwise Reports was not paid by the author to publish or syndicate this article. The information provided above is for informational purposes only and is not a recommendation to buy or sell any security. Streetwise Reports requires contributing authors to disclose any shareholdings in, or economic relationships with, companies that they write about. Streetwise Reports relies upon the authors to accurately provide this information and Streetwise Reports has no means of verifying its accuracy.
5) This article does not constitute investment advice. Each reader is encouraged to consult with his or her individual financial professional and any action a reader takes as a result of information presented here is his or her own responsibility. By opening this page, each reader accepts and agrees to Streetwise Reports' terms of use and full legal disclaimer. This article is not a solicitation for investment. Streetwise Reports does not render general or specific investment advice and the information on Streetwise Reports should not be considered a recommendation to buy or sell any security. Streetwise Reports does not endorse or recommend the business, products, services or securities of any company mentioned on Streetwise Reports.
6) From time to time, Streetwise Reports LLC and its directors, officers, employees or members of their families, as well as persons interviewed for articles and interviews on the site, may have a long or short position in securities mentioned. Directors, officers, employees or members of their immediate families are prohibited from making purchases and/or sales of those securities in the open market or otherwise from the time of the interview or the decision to write an article until three business days after the publication of the interview or article. The foregoing prohibition does not apply to articles that in substance only restate previously published company releases. As of the date of this article, officers and/or employees of Streetwise Reports LLC (including members of their household) own securities of Aben Resources and Pretium Resources, companies mentioned in this article.
Proven and Probable LLC receives financial compensation from its sponsors. The compensation is used is to fund both sponsor-specific activities and general report activities, website, and general and administrative costs. Sponsor-specific activities may include aggregating content and publishing that content on the Proven and Probable website, creating and maintaining company landing pages, interviewing key management, posting a banner/billboard, and/or issuing press releases. The fees also cover the costs for Proven and Probable to publish sector-specific information on our site, and also to create content by interviewing experts in the sector. Monthly sponsorship fees range from $1,000 to $4,000 per month. Proven and Probable LLC does accept stock for payment of sponsorship fees. Sponsor pages may be considered advertising for the purposes of 18 U.S.C. 1734.
The Information presented in Proven and Probable is provided for educational and informational purposes only, without any express or implied warranty of any kind, including warranties of accuracy, completeness, or fitness for any particular purpose. The Information contained in or provided from or through this forum is not intended to be and does not constitute financial advice, investment advice, trading advice or any other advice. The Information on this forum and provided from or through this forum is general in nature and is not specific to you the User or anyone else. You should not make any decision, financial, investments, trading or otherwise, based on any of the information presented on this forum without undertaking independent due diligence and consultation with a professional broker or competent financial advisor. You understand that you are using any and all Information available on or through this forum at your own risk.
Images provided by the author.